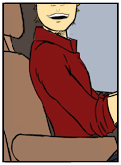 Ryan Byron is a human in Housepets!. He is the owner of Fido. He was childhood friends with Jeff and Jake. He is blonde, wears glasses and works at an R&D. His only appearance where driving Fido back home, and playing a DnD game during A Mouse Named Spo. After many years he reappeared at the end of Pageantate!
Ad blocker interference detected!
Wikia is a free-to-use site that makes money from advertising. We have a modified experience for viewers using ad blockers

Wikia is not accessible if you've made further modifications. Remove the custom ad blocker rule(s) and the page will load as expected.