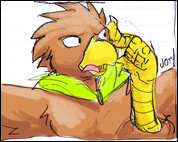 Regular Hawk is a fictional character in The Adventures of Spot (Superdog). He was created by Joey, who also draws him, and as such looks better than most of the other characters. His only power is flight, something Spot regularly mocks him for. He is possibly based on Hawkman.
Ad blocker interference detected!
Wikia is a free-to-use site that makes money from advertising. We have a modified experience for viewers using ad blockers

Wikia is not accessible if you've made further modifications. Remove the custom ad blocker rule(s) and the page will load as expected.