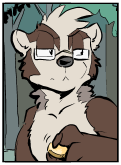 Mr. Steward
is the executor of the Milton Estate. While he can't exactly keep the ferrets from doing stupid things with their money, he can at least make sure they don't drive themselves into poverty, or sell all of their business ventures in order to purchase an iceberg from a shady entrepreneur.
Ad blocker interference detected!
Wikia is a free-to-use site that makes money from advertising. We have a modified experience for viewers using ad blockers

Wikia is not accessible if you've made further modifications. Remove the custom ad blocker rule(s) and the page will load as expected.