Denizens of Heaven are the deceased of all mortal species, residing in the celestial plane. They are first tagged in Open Up The Pearly Gates, although they appeared earlier as "innocent bystanders" in the Not All Dogs arc.
General Information
Edit
Their appearance is highly variable due to the psychological nature of their home. They are also capable of instantly locating individuals through thought. Most of the denizens seen in the comic are non-human mammals, although this may be partly by choice.
Known Members
Edit
Fox's Mother
She appears only briefly in
One Person You Meet In Heaven
, recognizing
Fox
instantly. She very closely resembles
Bailey
.
Mrs. Robinson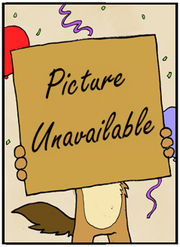 This is
King
's mother (also appearing in One Person You Meet In Heaven), although only her silhouette is visible. She is not surprised to find that her son is in the form of a corgi, although it does appear to have caused her to lose some sort of bet.
Spring and Summer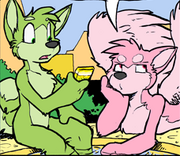 Two huskie girls that Fox met after his first week in heaven, who accompanied him for the remainder of his visit. They seem to have become infatuated with him and tried to contact him several times after he returned to Earth, but due to his being in Australia at the time and wanting to avoid roaming charges, he hung up without answering. They also appear to have added green and pink buttons to his bandana. In
The 4 Animals You Meet In Heaven
, the green one gives Keene a letter to give to Fox. Fox finally reads it in
Real Stories of the K9PD
which tells him they will be visiting soon...
Ad blocker interference detected!
Wikia is a free-to-use site that makes money from advertising. We have a modified experience for viewers using ad blockers

Wikia is not accessible if you've made further modifications. Remove the custom ad blocker rule(s) and the page will load as expected.