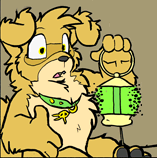 The Cosmic Lantern
(also known as
Cosmic Lamp
) is a
Celestial
object given to
King
as a method of keeping
Pete the Griffin
away. It releases some sort of celestial energy that keeps Lower-Celestial beings such as Pete or
Spirit Dragon
from being able to see any mortal within the vicinity. The lantern works with a "deniability field" which warps a celestial's perception so they cannot see anyone under the lantern's influence, nor see or hear people talking to them, as demonstrated by
Satau
in
Housepets 5000 BC, Part 2
.
The lantern would eventually shatter itself in Housepets 5000 BC, Part 3, after the gang accidentally causes a huge war that was too big for the lantern to cover up.
Ad blocker interference detected!
Wikia is a free-to-use site that makes money from advertising. We have a modified experience for viewers using ad blockers

Wikia is not accessible if you've made further modifications. Remove the custom ad blocker rule(s) and the page will load as expected.